Coming up this month: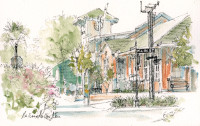 Discover Watercolor Pencils (class #425W)
Sat/Sun, February 25 – 26, 9 am – 4 pm
$160 Members/$190 Non-members          Pencils and paper provided!
Watersoluble colored pencils combine the precision and control of pencil drawing with the fluid possibilities of watercolor paint. Come explore the many ways these versatile drawing tools can be used—wet or dry, alone or for mixed media. Derwent, the leading makers and innovators in this fine art medium, supplies their best products for use in this class. Try them all in this class — plus you'll receive pencils and paper to keep.
Also coming soon:
Sketching in Pen & Color, one-day workshop on Wednesday, April 5
Portraits in Colored Pencil, two-day workshop, Saturday/Sunday, May 20-21
All my regular classes are ongoing — Colored Pencil for Everyone, Basic Drawing, Open Painting (oil/acrylic). See the Dunedin Fine Art Center site for full details — look under Workshops and Adult Classes/Drawing and Painting