Three Dudes and Boards, First Place, Drawing MASF 2013 Exhibition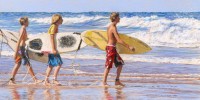 COMING SOON IN TWO LOCATIONS:
The Secret Weapons of Colored Pencil
An easy introduction to the possibilities of colored pencil, this class covers fun and fast techniques for any kind of subject or style. It includes technical exercises using provided tools and papers, followed by guided completion of a class project, and student selected projects. Instruction includes tips of color mixing, finishing, and presentation.
Art League of Daytona Beach, January 26-27, 2013
433 S. Palmetto Avenue, Daytona Beach FL 32114 www.artleague.org
Marco Island Center for the Arts, February 18-19, 2013
1010 Winterberry Drive, Marco Island FL 34145 www.marcoislandart.org
TWO WORKSHOPS FEATURED THIS SESSION AT THE DUNEDIN FINE ART CENTER:
Working Small: Miniature Painting & Drawing (482W), February 2 – 3, 9 am – 4 pm
$150 M/$180 NM
Any medium, all skill levels
The instructor is a frequent show prizewinner and past MASF show juror who will explain what qualifies as "miniature" and provide expert guidance in adapting your skills to the smaller scale. Work with your favorite mediums and surfaces; some special surfaces and tools will be for sale at the workshop. Your brushes don't have to be tiny, just have good points. Magnifying glasses are optional! (All registered participants are invited to a special pre-workshop tour of the exhibit with the instructor at 2 pm on Friday, February 1. Museum admission included.)
Color Mixing Made Easy (484W), March 2 – 3, 9 am – 4 pm
Tuition: $140 M/$170 NM + Materials Fee: $10, paid to instructor
Any medium, all skill levels
The instructor is a Registered Teacher in the Michael Wilcox (author of Blue and Yellow Don't Make Green) School of Color. The Wilcox method is guaranteed to help you save money on paint and time in finding the color you need! Features introduction to color theory, video presentation and hands-on exercises. Discussion will also include lightfastness, color schemes, and literal/interpretive use of color.
For DFAC classes, register online here or call 727-298-3322